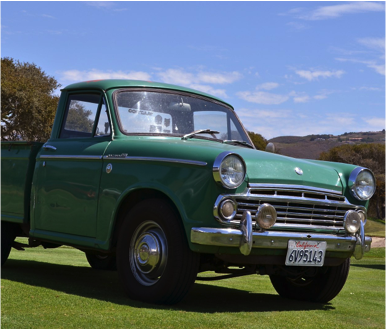 I had a lot of cars in the mid-'70s while I was in high school and junior college.
While my friends learned to fix 'em, I was busy selling 'em and racing them.
Street racing costs money, especially if you haven't learned yet to fix your own stuff. And I raced weird stuff - VWs, old beater Chryslers, and Opel Mantas.
So I had a lot of jobs, including delivering pies for Pizza Man/Chicken Licken - a little hole in the wall shoved between a halfway house and a biker bar.
Can you imagine delivering pizza for tips in a Toyota Stout while wearing a big yellow chicken suit?
I got my ass kicked a few times on deliveries, but I learned a few important lessons: If you get pulled over for speeding the cops are definitely gonna haul your feathers to the curb for the amusement of passing motorists - but no one frisks a sassy, scrawny chicken.
The family started a classic car lot in 1979 in Monterey - right on the main drag near Fisherman's Wharf. This was the right time and the right place to rip through a lot of classic muscle cars. I learned a lot about a ton of special interest vehicles, and traded my way through a lot of fun drivers - even a couple of old pre-war racers I drove in several appearances at the Monterey Historics. Good times.
Funny, I remember that Toyota Stout well, but I cannot recall seeing a single Datsun 320 on the road back in the day. This is when the lil' Hustler Datto was new. So of course 30 years later I had to have one.
This is that 320, bought off what appears to be the only conservative person Iiving in a little California mountain town called Cool.